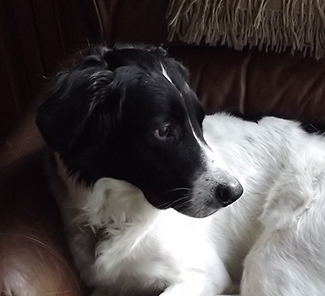 » Links
» Books
Colorado State University Argus Institute
www.argusinstitute.colostate.edu/grief.htm
The mission of the Argus Institute is to strengthen veterinarian-client-patient communication and support relationships between people and their companion animals. The site includes extensive information about caring for your companion animals, including grief reading lists for adults as well as children.
Association for Pet Loss and Bereavement
www.aplb.org
The APLB is a compassionate non-profit organization dedicated to helping people cope with the loss of a pet. APLB offers online several weekly pet loss chat room options, as well as several monthly anticipatory bereavement chat room options. APLB also offers a permanent online pet memorial option for a one-time donation. A Family Page, linked from each individual memorial, is provided at no additional charge when two or more individual memorials are posted.
Pet-Loss.Net
pet-loss.net/
Includes a state by state guide to crematories, pet cemeteries, support groups and counselors.
There are a variety of books and articles related to grief, with more and related specifically to pet loss.
For adults, we recommend:
Grieving the Death of a Pet by Betty J. Carmack, Augsburg Fortress Publishers
ISBN 080664348X (January 2003)
Betty Carmack shares her personal experience of loss of her beloved pet as well as the experiences of counseling thousands of others who have also lost a beloved animal companion. Her book captures the depth of pet loss and honors the connection with our animal companions.
The Loss of a Pet by Wallace Sife, Ph.D., Howell Book House
ISBN-10: 0764579304; ISBN-13: 978-0764579301 (2005, Third Edition)
Written by the Founder and President of the Association for Pet Loss and Bereavement (APLB), this book provides a guidebook to the grieving process, the human-pet bond, and additional extensive information and resources addressing pet loss.
Goodbye My Friend by Herb and Mary Montgomery, Montgomery Press
ISBN 1879779005 (2001)
This book offers a variety of personal stories written by different individuals who have experienced the loss of a pet.
For children, we recommend:
When a Pet Dies by Fred Rogers, Putnam
ISBN 0399215042 (1988)
In this book from the First Experience series, the star of Mister Rogers' Neighborhood helps children share feelings of the loss of a pet while offering reassurance that grieving is a natural, healing thing to do.
The Fall of Freddie The Leaf: A Story of Life for All Ages by Leo Buscaglia
IBSN 9780943432892 (1982) The book uses the metaphor of the annual changes in leaves on a tree to help appreciate the different phases of life. Freddy resists until he is withered and brown, the last leaf on the branch. The book discusses the interconnectedness of life and death.
Dog Heaven by Cynthia Rylant, Scholastic Trade, ISBN 0590417010 (September 1995)
Cat Heaven by Cynthia Rylant, Scholastic Trade, ISBN 0590100548 (September 1997)
Additional recommended reading lists can be found at:
Association for Pet Loss and Bereavement Books and Audio on Pet Loss and Bereavement aplb.org/resources/books.html
Colorado State University Argus Institute Recommended Reading List for Pet Loss www.argusinstitute.colostate.edu/readtoc.htm
There are a number of other resources for a wide variety of pet memorials including urns, jewelry, keepsakes, garden stones, and other products, however, here are some of our favorites:
Ashes to Ashes Urn Company Cremation urns, keepsakes and jewelry
www.ashestoashes.com
Hand blown Glass Cremation Jewelry by Mark Hamilton
www.solsticeglass.com
My Cherished Pet Cremation Urns
www.mycherishedpet.com
Lisa Havelin Pet Reliquaries Hand-crafted memorial lockets
www.petreliquaries.com
Land of Pure Gold Foundation Life celebration memory keepsakes and gifts
landofpuregold.com/store/memory.htm
Peternity Pet Memorials Urns, jewelry, memorials, online pet memorial gallery
www.peternity.com