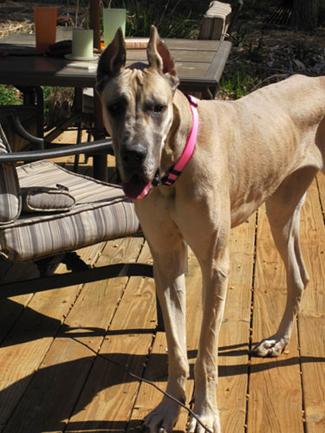 » Links for Pet Health Information
» How to Find Specialized Veterinary Care
» Palliative and Hospice Care Resources
Links for Pet Health Information
Speaking for Spot, Be the Advocate Your Dog Needs to Live a Happy, Health, Longer Life, Dr. Nancy Kay, Trafalgar Square Books, ISBN 9781570764059 (2008) also www.speakingforspot.com
Veterinary Partner www.veterinarypartner.com
Site dedicated to pet behavior, health and care, and disease information.
American Animal Hospital Association (AAHA) www.healthypet.com or www.aahanet.org
Pet care resources from AAHA featuring articles, blogs, ask-a-vet and more.
Morris Animal Foundation's Resources
www.morrisanimalfoundation.org/our-research/studies.html
Morris Animal Foundation was established in 1948 by Dr. Mark L. Morris Sr., a visionary veterinarian who believed there was a need for a foundation that solely addressed animal health and welfare.
IDEXX Laboratories Understanding Your Pet's Diagnostic Testing
www.idexx.com/pubwebresources/pdf/en_us/smallanimal/education/client-education/understand-diagnostic-test.pdf
American Veterinary Medical Association www.avma.org
Comprehensive information on pet care, animal health and veterinary medicine.
National Library of Medicine www.nlm.nih.gov
Search databases for veterinary information.
Vetinfo.com www.vetinfo.com
VetInfo provides health care information for dog and cat owners.
Vetlearn.com www.vetlearn.com
Articles on various veterinary topics available at this site.
WedMD Healthy Pets pets.wedmd.com/default.htm
Videos and articles on variety of dog and cat health and behavioral topics.
Help Your Dog Fight Cancer www.helpyourdogfightcancer.com
Laurie Kaplan is the administrator of The Magic Bullet Fund, a program of the 501(C)(3) Perseus Foundation, which helps caregivers with financial constraints obtain cancer treatment for dogs with good prognoses.
How to Find Specialized Veterinary Care
American College of Veterinary Internal Medicine www.acvim.org
Veterinary Cancer Society www.vetcancersociety.org
Veterinary Emergency and Critical Care Providers www.veccs.org
American Association of Rehabilitation Veterinarians www.rehabvets.org
American Holistic Veterinary Medical Association www.ahvma.org
The American Academy of Veterinary Acupuncture www.aava.org
American Veterinary Chiropractic Association www.animalchiropractic.org
American Animal Hospital Association Hospital Search www.healthypet.com/Accreditation/HospitalSearch.aspx
Palliative and Hospice Care Resources
The "HHHHHMM" Quality of Life Scale, by Alice Villalobos, DVM www.pawspice.com/qualityoflifescale.html
Canine and Feline Geriatric Oncology: Honoring the Human-Animal Bond by Alice Villalobos, DVM, and Laurie Kaplan, MSC, Blackwell Publishing, ISBN-13: 9780813802664, ISBN: 0813802660 (2007)
American Animal Hospital Association (including Pain Management Guidelines), www.aahanet.org
Morris Animal Foundation, www.morrisanimalfoundation.org
Land of Pure Gold Foundation, www.cancer.landofpuregold.com/hospice.htm
Speaking for Spot, www.speakingforspot.com (Hospice/Palliative Pet Care section)
"Guidelines for Veterinary Hospice Care," www.avma.org/issues/policy/hospice_care.asp
Palliative Medicine and Hospice Care, Tamara S. Shearer, DVM, Guest Editor, Elsevier, ISBN 9781455779970 (2011).
What Now? Support for You and Your Companion Animal by The Argus Institute at Colorado State University Veterinary Teaching Hospital, ISBN 9780692001035 (2009). The Argus Institute's comprehensive guide helps you navigate the journey that begins with learning that your animal is ill. Price and order information is available at the Argus Institute's website
Veterinary Partner provides detailed video instruction resource for subcutaneous fluid administration at www.veterinarypartner.com/Content.plx?P=A&A=469&S=1&SourceID=42
Mobility Supplies
Handicappedpets.com
Dog Wheelchairs, Products, Services and Support
www.handicappedpets.com
Order online or toll-free at 888.811.7387
AST Support Suits
www.petsupportsuit.com
Order online or at 360.393.9891
K-9 Carts West
www.k9cartswest.com
Order online or toll-free at 800.578.6960
Walkabout Harnesses
www.walkaboutharnesses.com
Order online or toll-free at 800.779.0439
My Dog for iPhone and iPad, www.doginfousa.com
The My Dog App helps you record personalized profile and photo for your pet, as well as medical information, veterinary and emergency contacts, vaccination history, microchip number, weight over time and more, including:
Store photos of vaccination and other records that can be sent directly from the App to your vet, hospital, daycare or boarding facility.
Keep track of past and future vaccination schedules with iCal integration
Enter any medications your dog is taking with dosage instructions and administration schedule with iCal integration
Keep track of vet visits with diagnosis and treatment summary
Also included are a pet travel guide and national guide to dog services and business by city, including dog parks and beaches, veterinarians, pet retail shops, day care and boarding, rescue organizations, shelters and more.
Remember the Milk www.rememberthemilk.com
Set email, SMS or IM reminders; also may be used with google calendar
Remind My Pet at www.RemindMyPet.com
Set pet medication text alerts to phone. The online menu contains common preventive medications that can be set up on a regular schedule and can also customize medication and day of week for reminder.